# 5. Five reasons why you should use these features every time you visit Mirtoch
Sat 27 Feb 2021
Share
You can share any publication via Facebook, Twitter, Linkedin, or download it for your local copy. In case you haven't signed in, copy the link and share it with your contacts as preferred.
For Twitter users specifically, you can click on Like, retweet or Tweet using the buttons shown at the bottom of each tweet. You can also click on the user profile icon and go directly to the user profile on Twitter.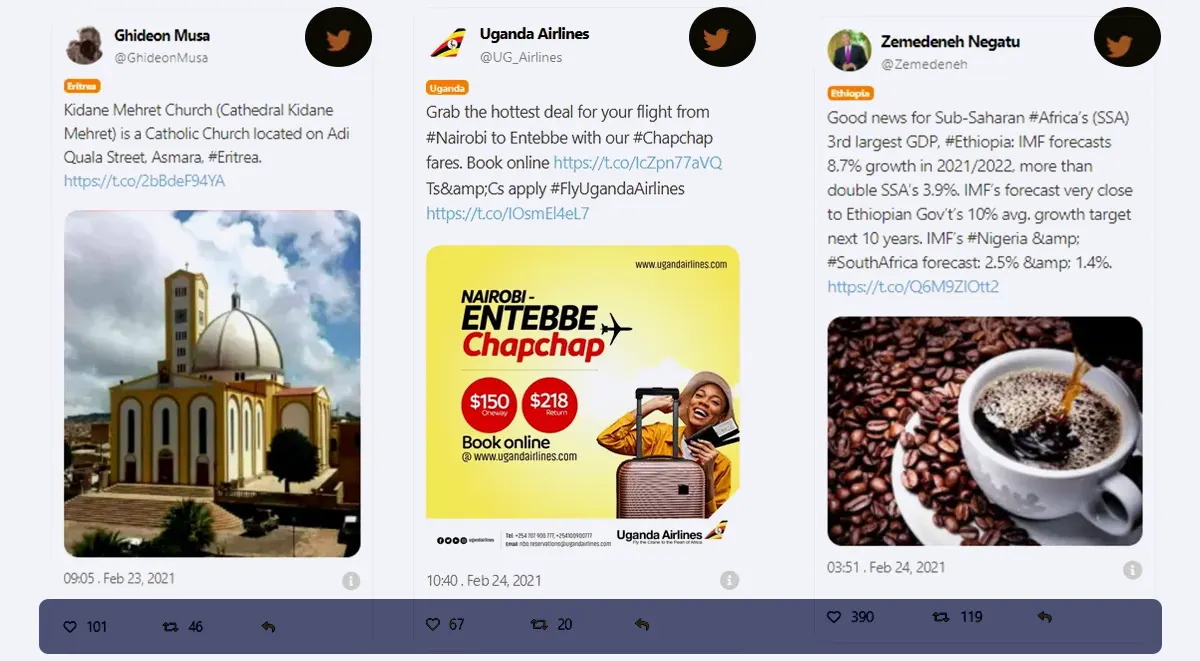 Countries
Currently, Mirtoch.com streams content from 8 of the East African countries. By default, you see updates from Djibouti, Eritrea, Ethiopia, Kenya, Somalia, South Sudan, Sudan, and Uganda. Most of these countries have a strong social media presence where you will find plenty of updates from Local Businesses, Government Media, and Political Parties.
S
ince most people like to focus on one specific country, after you make your first country choice, the choice stays as the default until you decide to change it. We recommend changing it to All countries frequently and remain informed on what's going on in the region. I know, I like to go back and forth between "All Countries" and "Ethiopia" multiple times during the day.
Filter:
Mirtoch comes with two major filtering options. You can either filter by topic or country category. To save time, we have already outlined the page to show Headlines first, followed by Business, recent publication, Government, political party, active, recent publication, and media content. The best part, you can filter it yourself and focus on content from one specific category field. The other filter option is that you can filter by two categories when you use the Country and topic filters in conjunction. For example, you can have Kenya selected as the country and business for the topic. Eritrea as the country and Media as the topic.
Publication
This section is where we intend to publish our content. We air to focus on data analytical publications and provide insights. The majority of the time, publications would be focusing on business and social issues.
Search
One of the best features of Mirtoch is that you can search for any Twitter profile right from here and read about 150 recent tweets. Then take a look at the Sentiment Analysis section to gain insights into the choice of words.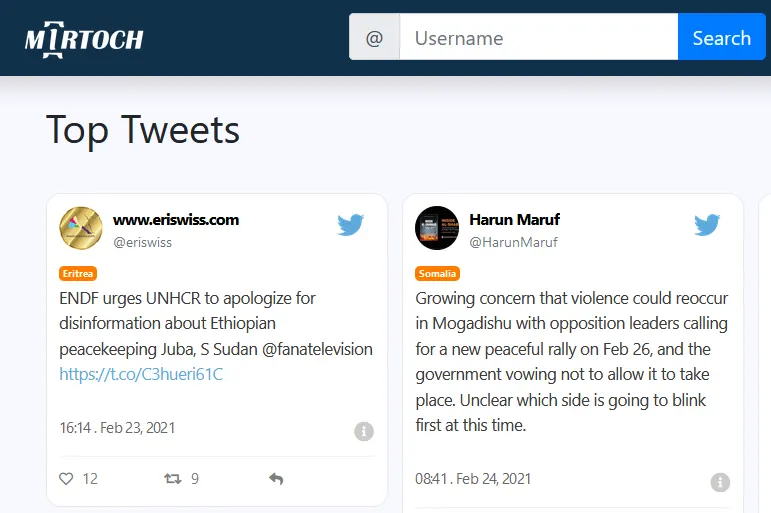 Lastly, Mirtoch is user-friendly and easy to integrate with most of today's social media tools. We recommend you sign up by email so that you can make comments on publications. In addition to that, you will be notified via email whenever we make publications. Signing up is not required to use the website for the most part. You get a few added benefits by signing up that non-account holders get.